While there are no precise dates specifying what period the millennial generation covers, demographers and researchers generally use the early 1980s as starting birth years and the mid-1990s to early 2000s as ending birth years.1 Merriam-Webster Online Dictionary defines a millennial as a person born in the 1980s or 1990s.2 Meanwhile, in the World Economic Forum's Global Shapers Survey 2017, millennials are broadly categorised as young adults under the age of 30.3

But why the fascination with the millennial generation?

Fifty percent of the world's population is under the age of 303, which means millennials represent roughly 1.8 billion of our planet's human workforce4. With numbers on their side, millennials are undoubtedly the future of our global economy and the movement that could revolutionise international development.4

Understanding the Millennial Psyche

Millennials have grown up in a world far different than yours as a parent. Theirs is a generation raised during the recession as a result of the Global Financial Crisis. Millennials witnessed working adults lose jobs and struggle financially. At the same time, they have grown up with the Internet, smartphones, and the rise of mobile technology and mobile apps.

As a result, we are seeing a generation with a different perspective on work, life and commodities. Millennials coming into the workforce today are reshaping business and driving the economy in ways their parents could have never predicted.6

So what are millennials doing differently in the workforce and business, and how are they affecting the face of business and economy as we know it?

They Want to be Their Own Boss

Millennials had a front row seat to the epic disaster that was the Global Financial Crisis in 2008.5 During the financial crisis, it quickly became clear that even the most dedicated of employees could be disposed of, and this has carried over into the way millennials view the corporate world today.5

In a survey conducted by cloud-based accounting software company Xero, 52% of millennials said being their own boss was one of the biggest motivators for starting their own business.5 Rather than working at a job for 20 or more years doing something they have no real passion for, more millennials are choosing to take the road less travelled.5

They Refuse to "Live to Work"

Work-life balance remains a hot topic that is widely covered in the media.5 It's also no secret that millennials have changed the definition of the term.5 Flexible work environments and a healthy balance between personal and professional worlds is how 79% of millennials measure the success of their businesses.5 Being able to maintain a schedule that allows them to travel and pursue personal interests is the second most important benchmark of a successful business for 67% of millennials.5

Technology has been a key enabler for millennials to embrace this pursuit of work-life balance.7 Long gone are the days when you were bound to your location for a source of income; as long as you have an Internet connection, you can work from almost anywhere and generate a source of income. A regular job does not provide that luxury.

They Love Technology

Millennials were raised with technology.8 They began using mobile phones, computers and the Internet in primary and secondary school.8 Because of this,millennials have become pioneers for the future of technology.8 Millennials have shaped the way the marketplace and working environment function with their technological advancements and preferences, and they have forced a shift in how companies attract them as consumers.8

Technology has also made it easier than ever for millennials to make money on their own.7 In fact, this is one of the economic changes that has played a major role in how millennials view entrepreneurship.7

They Value Experiences

Millennials place more value on experiences than material possessions.8 While your generation took pride in ownership of big-ticket items like homes, cars, investment properties and stocks, a survey conducted by Pricewaterhouse Coopers showed that 57% of millennials agreed that ease of access and frugality now replace the prestige of ownership.8

This value has resulted in the birth of the sharing economy.8 Ride-sharing, AirBNBs and cloud storage platforms have seen tremendous growth thanks to the moderate, sharing mentality of millennial consumers.8 Standard & Poor's estimated that millennials' spending are on upwards at USD600 billion annually.8 However, the bulk of such spending is seen in the ever-evolving, entrepreneur- friendly service industry, as opposed to the retail and housing markets that were a priority for the previous generation.8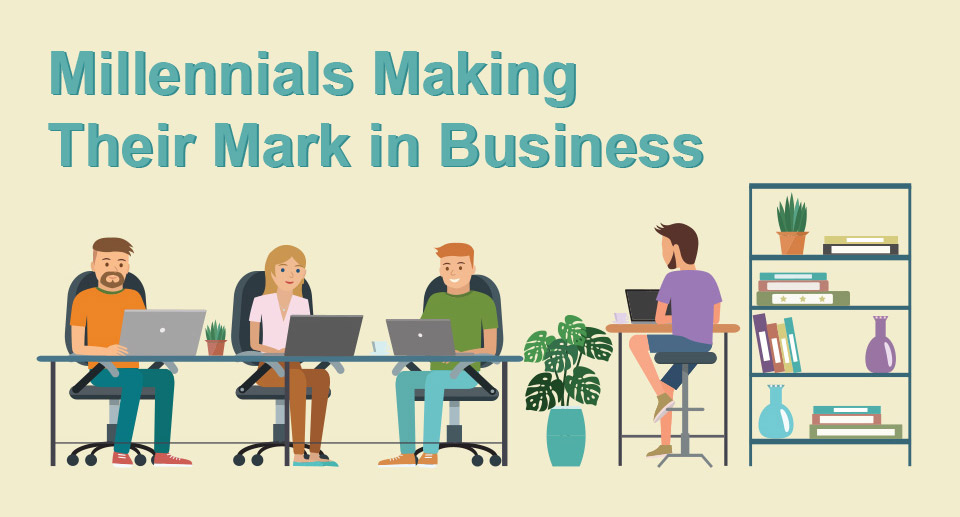 Millennial entrepreneurs are running businesses with turnover +141% higher than businesses run by older entrepreneurs (USD11.5m vs USD4.8m).

---

69% of millennial entrepreneurs say that having a positive economic impact was a factor in their decision to go into business, with 59% saying they wanted to have a positive impact in their community.

---

Nearly half (47%) of all millennial entrepreneurs are female compared to 26% of over 55s.

The highest proportions of millennial entrepreneurs are in the Middle East (63%), Mainland China (44%) and Hong Kong (44%).

---

On average, millennials' main venture employs more than twice as many staff as those of their counterparts over 35 (123 vs 58). They also have active shareholdings in five businesses compared to just three for those aged over 35.

---

Among successful young entrepreneurs, 89% were actively involved in philanthropy last year.

Source: HSBC Private Bank, Essence of Enterprise Report, 2017.
---
The Millennial Economy

Facing a soft job market and entering adulthood in a greater financial squeeze than their parents, millennials are taking things into their own hands and creating some big ripples in the economy.8 Their values shaped by the world they grew up in, their connection to technology, their spending habits and their investment preferences are actively shaping a new economic mould.8

Enter the startup economy.

Investopedia defines a startup as a young company that is just beginning to develop.9 Startups are usually small and initially financed and operated by a handful of founders or one individual.9 These companies offer a product or service that is not currently being offered elsewhere in the market or that the founders believe is being offered in an inferior manner.9

Shaped by their experiences growing up, the job and economic environment the world is experiencing today, millennials are impacting the startup economy we are witnessing today. Here are some top industries of the future for startups:

Artificial Intelligence

Think Amazon Echo or Google Home, and expect to see more artificial intelligence (AI) in the home and on your phone. Google CEO Sundar Pichai has said the company is moving from a mobile-first world into an AI-first world.11 He added that Google sees huge opportunities to improve how people work as the company focuses their long-term investments in their productivity tools supported by their machine learning and artificial intelligence efforts.11

Services Marketplace

Closer to home in Malaysia, several startups in the services space has also enjoyed success in recent times. Kaodim, a Malaysian-based startup which provides an online services marketplace platform in four countries in the region where you can hire cleaners, movers, appliance repairmen and even photographers, has raised USD11.5 million from investors since it started three years ago.12 Meanwhile, local food delivery startup Dahmakan raised USD2.6 million at the end of 2017.13

Clean Energy

The biggest challenge for millennials is creating a world that is both environmentally sustainable and prosperous for all human beings.10 Energy sectors including solar, wind, biofuels, bioenergy and carbon capture, fusion power, and battery storage will continue to experience tremendous growth.10

Cloud Computing

Instead of having to install software on your computer, you can now perform many tasks through cloud computing-based software services. For example, send or save a document on Dropbox, or manage your accounting on Xero. Research shows that 60% of all companies now have integrated at least some cloud computing solutions into their business, with 36% intending to increase their investment in the future.11 And in a boon for cloud computing entrepreneurs, venture capital firms are more likely to invest in software firms than in any other category, according to data from PitchBook.11
Supporting Their Future

Clearly, there is opportunity and investor interest in the millennial pursuit of the startup economy. As parents, we can help lay the foundation for our children to pursue their dreams to achieve success in the millennial economy.

Be Their Friend

As parents, it is important to be a close friend early on in our children's lives: we need to listen rather than talk, we need to have conversations regularly that are open and not critical, which will help build the trust factor and deepen the relationship.14

Research in human developmental growth indicates that significant growth occur when children are below five years old, in their adolescent periods and finally during their adulthood that extends into their late 20s.14 Parents play a major role in impacting their children's lives and their attitude towards life.14 In fact, financial decisions from our adulthood to latter stages of our lives are largely influenced by what is taught to us implicitly or explicitly during the first 10 years of our lives.12

Investing in Family

Often when we think about investing, we think about putting our money in someone else's business. But have you considered investing in your own millennial child who may have a potential business idea?

Parents helping their children in business is not a new concept.15 Family, friends and fans are an accepted part of entrepreneurship funding, and it doesn't necessarily have to be limited to the notion that it is only for wealthy families or families in the business sector.15 Your investment could be in the form of a financial gift, loan, investment or perhaps buying shareholding in your child's company.

For example, you could consider using the HSBC Premier Unsecured Overdraft to provide your child with access to funds to help the business grow when the need arises. It is an efficient way to access funds quickly without the need for collateral and pay interest only on the amount that is used.

While your child may have his or her finances invested in business, you could also potentially help by investing in a home for their future. A flexible home loan like HSBC HomeSmart could be a good option as it can change to meet different needs depending on life's priorities. This way your child can focus on building the business while you invest in building a nest egg for their family.

As you juggle your finances to invest in your child's future, it may be useful to take advantage of our complimentary financial review to find out if it may be necessary to realign your financial arrangements and investment portfolio to improve your financial well-being.

Support Interests Outside of Formal Education

It can be difficult for older generations and those who climbed the conventional business ladder to be supportive of today's more entrepreneurial millennials – specifically when those tendencies lie outside of formal education.

While going to college or university continues to provide valuable education, the reality is many young adults today may graduate with a university degree but end up not being able to find a job in their field of study. The new economy rewards the entrepreneurial, the self-starters, the ones who can take an idea and run with it. To overlook that massive shift and to still insist that young people walk the same path as generations prior is a big mistake.16

Let Them Learn Through Failing

Millennials don't want to be taught in theory; they want to dig their hands in and learn through experience.16 The thought of you – as a parent – allowing your millennial to do "their thing" without being wise to the world may be terrifying.16 But you may have to, and realise that their failures will teach them faster than you ever could.16

Teaching your hyper-ambitious millennial will require a bit more hands-on involvement than you may be accustomed to.16 The key is to create an environment that will allow your millennial to fail in the safety of the arms of the family – without causing too much damage, of course.16 Then you can watch your next generation do things you never thought they could do.16

Speak to your Relationship Manager or walk into any HSBC branch to find out how you can support your millennial's ambitions.
---
• Sources: 1 Wikipedia, Millennials, undated. 2 Merriam-Webster, Millennial, January 7, 2018. 3 World Economic Forum-Global Shapers Community, Global Shapers Survey 2017, undated. 4 Medium, How Millennials are Stepping up to Address UN Post 2015 Agenda Through Entrepreneurship and Innovation, July 8, 2015. 5 Xero, Millennials: The Next Generation of Small Business Owners, undated. 6 Success Formula, How Millennials are Changing Business Models and Driving the New Shared Economy, November 28, 2016. 7 Startup Nation, Why Millennials are Taking on Entrepreneurship, February 9, 2017. 8 Forbes, Millennials: Taking Over the Internet and the Economy, September 5, 2017. 9 Investopedia, What Exactly is a Startup?, December 15, 2017. 10 Startup Guide, The Top 25 New Fields for Millennials, undated. 11 Mic, 5 Top Industries for Entrepreneurs of the Future: Start-ups in These High-Growth Areas Can Thrive, June 15, 2017. 12 TechCrunch, Kaodim Raises $7M for its home services platform in Southeast Asia, November 6, 2017. 13 TechCrunch, Malaysia's Dahmakan Chows Down $2.6M for its end-to-end food delivery service, January 4, 2018. 14 Huffington Post, How Can We Empower the Millennials to Live their Dreams, February 2, 2015. 15 The Sydney Morning Herald, Property or Small Business: How Should Parents Help Their Kids? 23 November 2017. 16 Inc.com, Millennials Need to be Put in a Position to Succeed. Here are 5 Things Older Generations Can do to Help, September 19, 2017.