Plan ahead and have yourself an amazing holiday
Everyone loves travelling and going on holidays. Nothing beats escaping the office grind to spend two weeks travelling across Europe or soaking up the sun and surf in the Caribbean.
But before you hop onboard your flight for your next overseas holiday, it's worth planning ahead to ensure that you have an enjoyable and stress-free trip which also leaves a positive impact on the destinations you are visiting.
Travelling Responsibly
As tourism grows and the number of international travellers continue to rise – there were nearly 1.2 billion international travellers in 2015, up from 674 million in 2000, according to the United Nations1 – the choices we make and what we do during our travels can have a positive or negative impact on the world.
By acting responsibly and making sustainable choices, we can leave a positive impact on the environment and also the local communities of the destinations we choose to visit.2 Here are some tips on how you can become a responsible tourist.
• Choose eco-friendly transport and accommodation options. You could choose to fly with airlines that have invested in more cost-efficient aircraft or participate in carbon offset programmes. You can also stay at hotels that adopt a sustainable approach to their operations like using solar power to reduce carbon emissions.1
• Plan your route to minimise carbon emissions. If you are flying, book direct flights to avoid transfers and stay longer. Taking fewer but longer holidays if you are going long haul will also help. Travel by train where possible, minimise internal flights and use other public transport methods when necessary.2
• Use water sparingly. Apart from minimising carbon footprints during travels, we need to learn how to reduce water wastage. Water is a vital resource and often a scarce one, especially in far-flung tourist destinations. So, if you are being asked to monitor your water usage, there is probably a good reason for it.2
• Respect local cultures. When we visit another country, it is important to respect people and their local community's religion and cultural traditions, dress appropriately and to avoid invading into people's spaces. Remember that you are visiting their homes, so think about how you would want to be treated if the roles were reversed.2
Ensuring a Stress-Free Holiday
Typically, when we are going on a holiday we will plan what to see and do, but often forget to make a plan for holiday spending. This is especially important if you are travelling to places where access to financial or banking services is limited. Here are some handy travel money tips to ensure that you spend your holiday enjoying the sights and not hunting down money changers or banks.
• Sign up for online or mobile banking. This will give you the convenience and security of managing your funds while you are travelling. You will be able to check your balances, transfer and deposit funds easily and stay on top of your recent transactions.3
• Inform your bank that you will be overseas. Your bank account and credit cards won't be very useful if they are frozen. The slightest deviation from your normal spending patterns can raise a red flag with the fraud department which may result in your account being frozen or credit card denied.3
• Carry multiple forms of payment options. It is a good idea to carry a variety of payment methods like cash, credit cards and debit cards, and ensure that the credit cards and debit cards you have are accepted internationally like those issued by HSBC. You can use your credit cards to pay for bigger ticket items like flights and hotels, while cash can be used for daily spending.3
• Use credit cards with travel rewards. Using credit cards with travel rewards like those issued by HSBC means that you can enjoy a wide range of benefits and perks while travelling. For instance, HSBC's home&Away4 privileges allow you to enjoy offers and discounts at thousands of merchants across the globe. You could also rack up additional Rewards Points through your overseas spending with your HSBC credit card.
• Choosing the currency of payment while overseas. Credit cards now offer you the option to pay using Dynamic Currency Conversion (DCC) or without using DCC while you are overseas. Where DCC is available at the merchant, the service gives you the choice of paying in Malaysian Ringgit or the currency of the country you are visiting when you pay at the overseas merchant for goods and services with your credit card. If you choose to pay in Malaysian Ringgit, then you are using the DCC service.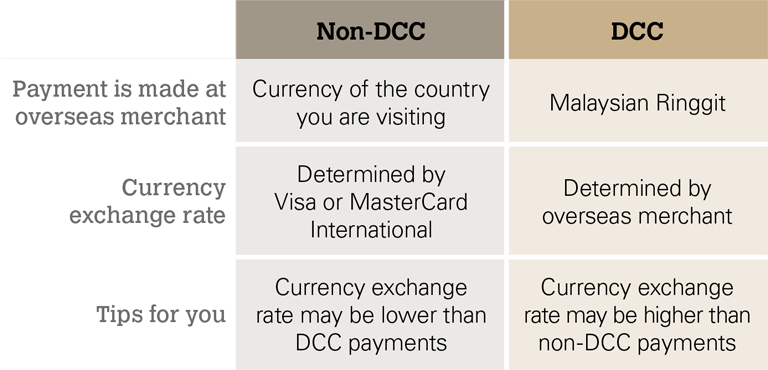 So remember to plan ahead before you
board the plane for your next holiday
to have a worry-free time.
• Sources: 1 NYTimes.com, Where Sustainable Travel is Headed in 2017, January 6, 2017. 2 ResponsibleTravel.com, Tips for Responsible Travel, undated. 3 USNews.com, A Financial Checklist for Traveling Abroad, August 8, 2014. 4 homeandaway.hsbc.com, HSBC's home&Away.