Travelling Light, Financially
Months before departure, you've booked your tickets, noted all the must-see spots in the foreign land. As for your finances, you thought the only thing you needed to do was hop down to the friendly money changer and get a thick wad of foreign currency. But is that all? Overlooking the details of your finances may cause you more money on the trip. While you plan for your trip, set your finances in order too for a financially smooth trip. Here's a sample checklist you may wish to use to help you sort them out.

1. Estimate your budget
What is the exchange rate?

Check travel guides and travel websites for an estimate of how much you would need daily.

Estimate how much you would like to spend on shopping, sight seeing etc.
2. Purchase travel insurance
Travel insurance may provide compensation against delayed flights, flight cancellation, lost baggage, loss of travel documents, theft, etc.
3. Consider travel medical insurance
Travel medical insurance is to ensure that you are covered should you become sick or injured while travelling. 

Look for a policy that covers hospitalisation and medical expenses.

Or check your existing insurance policy for medical coverage while travelling.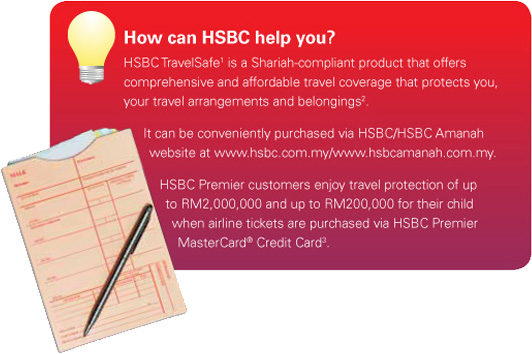 4. Try not to rely on only one method of payment. Bring a mixture of cash, credit card and travellers cheques (optional)
Bring 2 credit cards that you are likely to use.

Consider travellers cheques if you prefer a secure method of carrying money.
5. Make sure your ATM or credit card is valid and active before you leave
Check that they are not expired.

Get information about fees and charges for overseas card usage.

Note down the emergency telephone numbers of your debit/credit card company.
6. Inform credit cards and ATM cards issuer about your travel plans – destination and length of stay. If you plan to withdraw cash on your cards, check for your bank's ATM locations or overseas partner banks' ATM locations
This is to prevent the banks from freezing your cards when you attempt to use them overseas.

Reduce the risk of carrying a lot of cash by withdrawing what you need at the local ATM.

Understand the fees and charges you may incur from withdrawing cash overseas.

.
7. Keep your cash and cards safe
You may wish to keep your valuables in the hotel safe and bring the amount of cash you think you would need for the day.

If you are holding two credit cards, you may consider using one and keeping the other in the hotel safe.

Should the first credit card be damaged, lost or stolen, at least you still have another credit card to fall back on.

.
8.Cross check your receipts
Keep receipts from your overseas credit card transactions.

Check your banking statements carefully upon your return to confirm details of all transactions.
9. Pay your credit cards bills
So before your next trip, you may wish to review and amend this sample checklist to get your travel finances in order. For more information on HSBC products and services mentioned in this article, please visit www.hsbc.com.my or call your Relationship Manager.
Footnotes:
1 This plan is managed by HSBC Amanah Takaful (Malaysia) Sdn. Bhd. (Company No. 731530-M). HSBC Bank and HSBC Amanah are the intermediaries in distributing this plan. 
2 HSBC TravelSafe Terms and Conditions apply.
3 Subject to Terms & Conditions stated in the master certificate(s).
4 Refer to the Tariff & Charges for HSBC Products and Services for the applicable fees and charges at www.hsbc.com.my. 
5 The SMS alert service is provided on a best effort basis and is subject to telco service provider's coverage and availability. Terms and Conditions and Tariff and Charges apply, and are available at www.hsbc.com.my.  
6 From Malaysia 1-300-88-9393, Overseas Call Collect 603-8321 5222 or HSBC Premier Emergency hotline at +1-908-PREMIER (+1-908-7736437) (Please dial the international access code from the country you are calling from before dialing +1-908-PREMIER. IDD charges apply).
7 Available with authorisation from home country with a limit of up to USD10,000. Tariff and Charges apply and are available at www.hsbc.com.my.