Impact on Malaysia
As mentioned earlier, Malaysia could be a victim of the potential fallout from the US-China trade war. However, there are differing views depending on whom you ask.
Malaysia and China are closely intertwined in terms of economic relations and trade.6 For nine consecutive years, China has been Malaysia's largest trading partner.6 In 2017, Malaysia's exports to China were valued at RM126.15 billion, an increase of 28% year-on-year, with the biggest contributors being the electrical and electronics sector, as well as petroleum and rubber products.6 Meanwhile, Malaysian imports of Chinese goods increased 15.5% year-on-year to RM164.5 billion.6
The US-China trade war raises concerns for Malaysia's external trade and its related domestic sectors, which depend substantially on exports.6 Malaysia is one of the most export-reliant economies in the world – in 2017, the country's exports of goods and services represented nearly 71.5% of GDP.6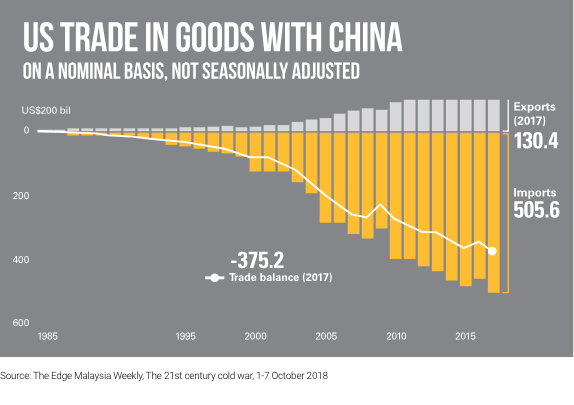 According to World Bank Group lead economist and acting Malaysian country manager Richard Record, it is natural for Malaysia to face risks relating to uncertainty in the external environment like any highly open economy.6
"Escalation of protectionist tendencies would have a disproportionate adverse impact on Malaysia, given its high level of integration with the global economy and financial markets, and its dependence on global value chains as a source of growth."6
Adds Record, "Elsewhere, the possibility of financial market disruptions has increased amid shifting monetary policy expectations in advanced economies, which could spread across emerging economies including Malaysia, through heightened financial market volatility, reversals in capital flows, and pressures on exchange rates."6
One local economist predicts the indirect effect of the US-China trade war potentially slicing 0.5% of Malaysia's GDP, which based on Malaysia's 2017 GDP of RM1.35 trillion would translate to about RM6.8 billion.6 Taking on a more cautionary view, Socio-Economic Research Centre executive director Lee Heng Guie says Malaysia's GDP growth could fall to below 4% in 2019 if US and China continue to hike tariffs on over US$1 trillion worth of imports cumulatively.6
According to another Malaysian economist with a leading local bank, it is impossible for Malaysia to totally shield itself from a "China crisis," given the country's close relationship with the Malaysian economy.6 He says a "China crisis" will trigger a global economic slowdown and recession, as well as global financial market volatility and correction.6 He estimates that a one percentage point drop in China's real GDP growth will shave 0.7 percentage points off Malaysia's real GDP growth.6
The new Malaysian government, however, seems to hold an opposing view to local experts.6 New Deputy International Trade and Industry Minister Ong Kian Ming does not think Malaysia will be caught in the middle of the US-China trade spat.6 Ong says while China may be Malaysia's largest trading partner, the country's trade volume with China is not even half of Malaysia's total trade volume.6 He also thinks Malaysia can perhaps benefit from any trade diversion from other countries including the US, China and the European Union.6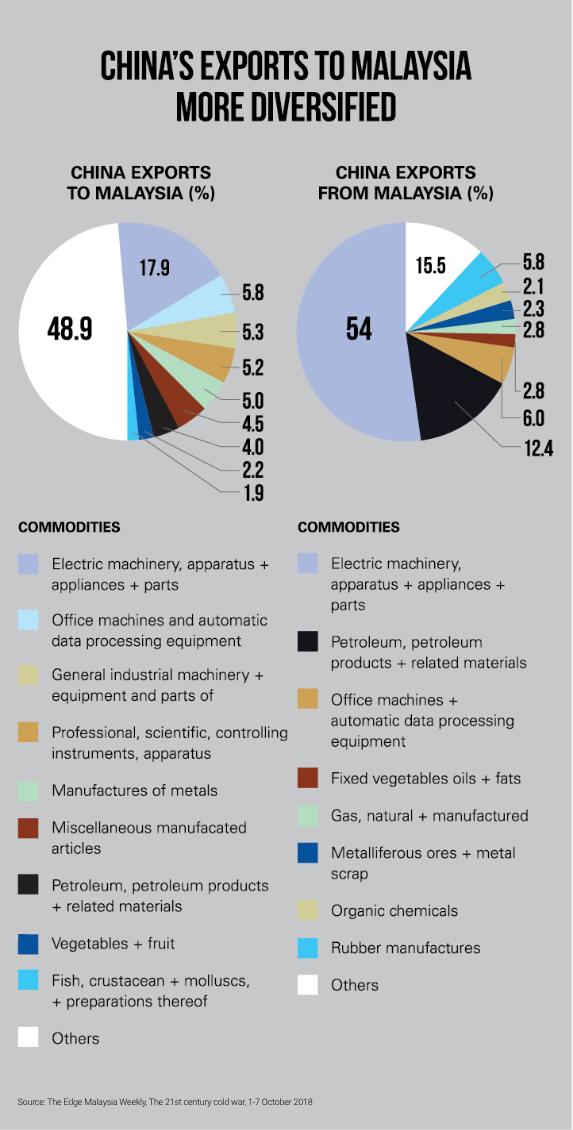 Commenting in Parliament in August 2018, Ong said interest among companies from both the US and China to invest in Malaysia have risen following the trade war.7 "I feel interest in investing in Malaysia has become more apparent after the 14th General Elections. Now, as a result of the US-China trade war, companies from both these countries are showing rising interest towards investing in Malaysia."7
The deputy minister added that the International Trade and Industry Ministry was undertaking an evaluation as to whether the Comprehensive and Progressive Agreement for Trans-Pacific Partnership (CPTPP) could provide greater benefits in terms of attracting foreign investments resulting from the trade war.7
"I feel there is certainly good from the aspect of entering new markets. Although the US has withdrawn from the pact, we still have three new markets, namely Canada which is the world's 10th biggest economy, Mexico the 15th largest and also Peru," Ong commented further on the CPTPP.7
Prime Minister Dr Mahathir Mohamad backs Ong's view saying Malaysia was likely to benefit from the trade war between the US and China in terms of attracting foreign investors.8 He says there is a possibility that investors would look to invest in countries that were not involved in the dispute like Malaysia.8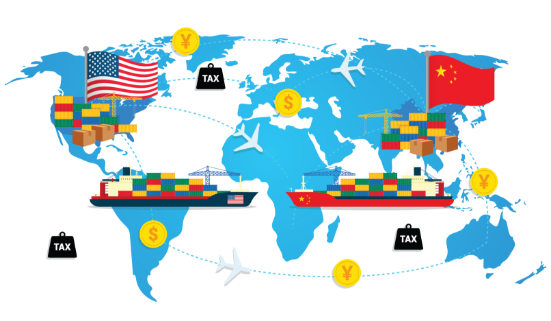 US election respite
For those hoping that the US midterm elections on 6 November 2018 will bring a change the country's China policy, diplomatic observers and experts believe it is unlikely to happen, even if the Democrats win.9
Zhao Quansheng, director of the Centre for Asian Studies at American University in Washington, told an event in Beijing that there was a "bipartisan consensus" in Washington in favour of a hard line against China.9
Even if Trump and the Republicans lose in the midterms, it is expected that the sentiments the US President has fanned in Washington will persist.9 Observers predict that the Democrats will likely support US businesses that want action to curb what they see as unfair Chinese trade practices, such as the alleged theft of intellectual property and forced technology transfers.9 The current mood in Washington is seen as increasing the chances that a Democrat-controlled Congress is likely to keep up the pressure for a tough line against China.9
Regardless, the US President's authority on trade policy under the law is "enormous" and will remain so even if Trump ends up facing a Democrat-controlled Congress.10
On their part, China's top brass believe that the trade dispute will likely get a lot worse before it gets better.10 Furthermore, they have decided that there is no point trying to negotiate an outcome with the Trump administration with the November midterms looming.10
It looks likely that this trade war will continue into 2019…
Sources: 1The Washington Post, The U.S.-China trade war has begun. Here's how things got to this point, 6 July 2018. 2Forbes, Fears of a Trade War With China Are Receding, 25 April 2018. 3Financial Times, US-China trade negotiations end with little progress, 24 August 2018. 4The Edge Malaysia Weekly, The 21st century cold war, 1-7 October 2018. 5South China Morning Post, Who might be hurt by fallout from the US-China trade war? Singapore, Taiwan, Malaysia, to name a few, 29 August 2018. 6The Star, Trade war fallout on Malaysia, 21 July 2018. 7New Straits Times, US-China trade war benefits Malaysia, 29 August 2018. 8The Star, Experts: US-China trade war may have negative impact on Malaysia, 7 August 2018. 9South China Morning Post, Will the US change its China policy if the Democrats win the midterms or is that wishful thinking from Beijing? 21 October 2018. 10Australian Financial Review, Trump's trade war: 'The midterms will change nothing', 21 September 2018.