From Employee To Entrepreneur
Tips to help you prepare and make the transition from employee to entrepreneur.
If you are a career professional or long-time employee who has dreams of striking out on your own to start up a business and pursue your dream of entrepreneurship, you are not alone. According to a 2017 Workmonitor survey conducted by recruitment firm Randstad, every other Malaysian employee (49%) considered quitting their job to start their own business.1
Quitting your job and starting your own business is not a decision that should be taken lightly.
The proportion of Malaysian employees feeling the pull of entrepreneurship was higher than Singapore (32%) and Hong Kong (33%), and almost double the global average of 28%.1 However, the survey showed that many who considered making the career switch to entrepreneurship were holding themselves back by the fear of failure.1
So, are you ready to be your own boss?
As exciting as the thought of making a career switch from employee to entrepreneur may be, it can be a rough road.2 Estimates suggest that anywhere from 50 to 90% of new business start-ups fail within the first few years.3 Quitting your job and starting your own business is not a decision that should be taken lightly.2 You need to ask yourself some tough questions before striking out on your own.2
Why do you want to become a business owner?
Do you have an entrepreneurial idea that you unequivocally need to follow and see where it goes?
Or, do you want to become your own boss because you hate your job and need a change?
By asking yourself the difficult questions and going through the underlying motivations for starting a business, you can protect yourself from unnecessary risk, and provide confirmation to why you definitely should become an entrepreneur.4
5 good reasons to start your own business
1. You see an opportunity
A new business opportunity, perhaps in the form of an underserved or unserved need in the marketplace, or a new technological innovation, can be an opportunity worth taking advantage of.4 Be sure the opportunity is real and you are not exaggerating its value.4
2. You have a business idea that's been validated
If you're sitting on a tested prototype, the results of a consumer survey, or the anecdotal evidence from years of working in a corporation, suggesting that there is a true need for the product or service you have in mind – perhaps it's time to take the next step.4
3. You have industry experience
You have the advantage of a better understanding of the industry, markets, customers and competitive dynamics from your industry experience.4 These are things that are difficult to match by industry outsiders, as you'll be able to leverage existing relationships to drive your new business.4
4. You have the necessary resources
Having an idea is great but to start your own business, you need the right resources to turn idea into reality.4 These resources can come in the form of financial capital, industry insights, technical know-how or valuable contacts that'll help you accelerate your success.4
5. You won't accept failure
The initial road to entrepreneurship can be slow and uneven.4 Even when you achieve milestones, these can be followed by setbacks.4 Your attitude towards handling these roadblocks at the beginning will determine your long-term success.4 If you are the type who gets back up every time you fall, you are well-suited to be an entrepreneur.4
Meanwhile, hating your job or boss, wanting to work less, only wanting to answer to yourself, or because a friend or family member wants to start a business with you, are probably not the right reasons to become an entrepreneur.4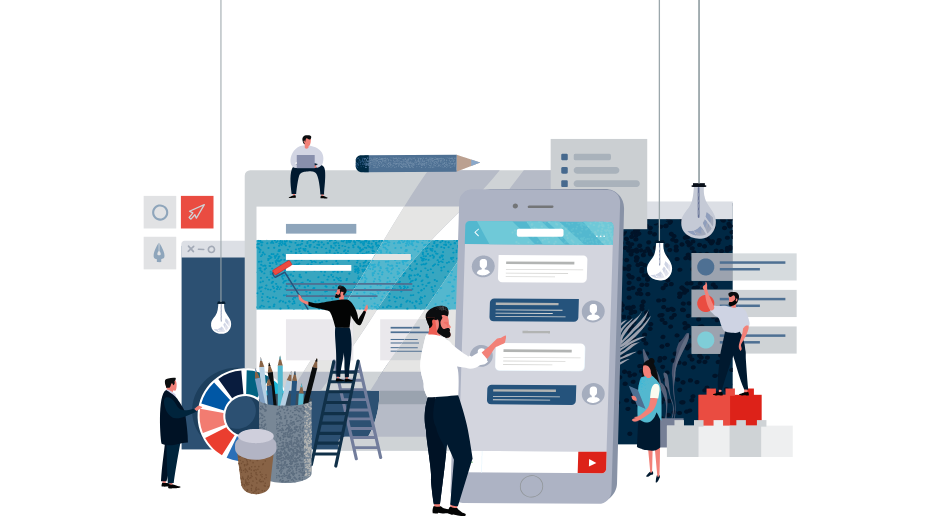 Making a successful transition to entrepreneurship
The reality is making the transition from employment to entrepreneurship is going to be hard. It's going to take a lot of hard work, practical skills, relationships, determination and mental fortitude.5 You need to be prepared and make mental shifts to be successful.
Develop your idea and find your niche
Before starting your new business, have a clear picture of what you will do or sell.2 The best business ideas solve a problem.2 Aim to fill gaps in the market and provide something consumers need.2 Do some research to find your niche.2 You should have your business idea clearly defined before you quit your job and join the world of entrepreneurship.2
Have a business plan
Refine your idea with a strategic business plan that will act as your roadmap for your new business.2 Your business plan should detail what you will offer, who your target customers will be, and how you will fund the business.2 The business plan can be a simple outline or a formal document, which will help you decide when you will open, where you will operate, and what inventory and equipment you need. Also plan your marketing strategy and business budget.2
You probably won't have every detail figured out at the start, but preparing for major parts of your operations is key.2 A business plan will help you face challenges and lead your business in the right direction.2
Build your network
Starting out on your own doesn't mean you have to grow your new business alone.2 The right connections can help your business in many different ways.2 Your network should include experts who can offer valuable advice, from financial advisors to industry veterans, and even prospective customers.2 Nurturing these relationships can lead to long-term customers and a steady inflow of potential business.2 For an entrepreneur, especially a new business owner, there can never be too many people in your network.2
Build on your strengths
Top entrepreneurs get to where they're at by being the best at what they do.5 They're deeply focused on discovering their true strengths early on and building upon them.5 Most successful entrepreneurs actively outsource, hire help, or completely avoid tasks that aren't within their core skill set.5 They know that the more time they spend doing only what they're best at, the higher their chance of success.5
Learn to say "No" often
Prioritise and allocate your time well at the start of your business journey.5 This will have a huge impact on how quickly and effectively you'll be able to scale your business.5 Time is your most precious resource – allocate it carefully and choose to do only the highest-impact activities that can move your business the furthest towards your goals.5 Be willing to turn down opportunities that aren't aligned with your goals or don't outrank your priorities in terms of immediate positive business impact.5
You control how you define "success"
"Success" in business is commonly associated with becoming rich, selling the company you founded for millions of Ringgit, or being showered with awards and accolades.5 While these are nice, the true measure of success in business is how much you're able to use your skills and strengths to help others.5 All other measures by which success is commonly defined, are purely vanity metrics.5
Once you've done all your homework and prepared yourself for your entrepreneurial journey, trust yourself and push ahead. You can do it.
Money mistakes new business owners should avoid
Spending big at the start
It may be nice to have the best new computers, a trendy office, a flashy website and highly talented staff to help grow the company when you start a new business, but think carefully.6 While some expenses may be unavoidable and mandatory, you need to always ask yourself if the expense in question is going to help you generate more revenue in the short-term.6 Forego expenses that aren't essential to the growth of your company or offer very little value to your bottom line when you are starting up.6
Incurring credit card debt
While using credit cards responsibly is a normal business practice, it also exposes you to the risk of deep debt if you mismanage that line of credit.6 Because credit cards are so convenient to use, many new business owners fail to see that they're compounding their expenses and incurring interest charges every time they use their credit cards and don't pay off the full balance at the end of the month.6 Irresponsible credit card use could be the worst mistake you make as an entrepreneur – so exercise prudence when it comes to credit cards.6
Not setting a clear budget
You may be able to run your business without a clear plan for the future, but you'll have a hard time achieving success without a rough budget to help guide what you can and cannot afford to spend on each month.6 You need to have a carefully planned budget for operational, marketing and other expenses to steer your new business towards profitability.6 Having a clear budget also increases financial discipline and refines the roadmap to your business growth.6
Banking designed for SMEs
Choosing the right banking partner at the start of your new business journey with banking services that fit your needs can be very helpful. HSBC Retail Business Banking for SMEs provides tailored banking services to help drive your business further and you achieve your goals.
With HSBC Retail Business Banking, you will be able to take advantage of the synergies of your business and personal banking relationships with us and enjoy the rewards that come with it, while maintaining separate business and personal accounts which will allow you to have a more accurate picture of your business' financial health by preventing overlap between what you personally earn and spend, and what your business is generating and costing on a monthly basis.6
Features of HSBC Retail Business Banking designed specially for SMEs include:
Higher interest rates7 with Integrated Relationship Balance recognition
Lower lending rates7 to grow your business with our Working Capital Solutions
Simplified Banking with digital solutions and real-time FX rates
Personalised Banking with dedicated Relationship Manager and customer hotline
Comprehensive banking solutions
To find out more about how HSBC Retail Business Banking can help you on your entrepreneurial journey or grow your SME business, speak to your Relationship Manager today.
Sources: 1 HR In Asia, 49% of employees in Malaysia plan to quit jobs to give a shot at entrepreneurship, 31 March 2017. 2 Forbes, Making the transition from employee to entrepreneur, 28 June 2017. 3 CNBC, How to know when to take the leap from employee to entrepreneur, 28 January 2019. 4 The Balance, 20 right and wrong reasons to start your own business, 20 May 2018. 5 The Balance, 5 mental shifts you need to make to become an entrepreneur, 18 April 2018. 6 The Balance, 7 biggest money mistakes new business owners make, 18 April 2018. 7 Compared to market average as at 25 Oct 2018.