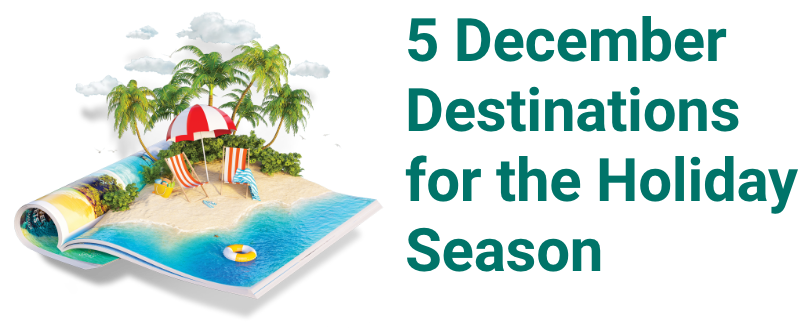 Travel savvy this holiday season and discover new experiences to remember
With the year winding to a close and the holiday season approaching, it's the perfect time to think about holiday destinations you could visit to celebrate Christmas and ring in the New Year. Perhaps escape to the white sandy beaches of a tropical island? Or celebrate a white Christmas in Europe? Here are five picks for a December to remember…
1. Germany1
If you want to soak in all the trimmings of a traditional European Christmas, then Germany is the place to be this December. Experience the festive season like you've never experienced at Germany's Christmas markets or Weihnachtsmarkt, where the romance of the holiday season truly comes alive amongst the snow-dusted market stalls selling handcrafted trinkets, fir trees adorned with ornaments, and the cinnamon scent of glühwein – a traditional German mulled wine.
Word has it that Nuremberg, Munich, Cologne and Frankfurt have the best and biggest markets. Once you've ticked those off, you can follow the festive spirit through the Christmas markets of Belgium, Austria, Hungary and the Czech Republic too.
2. South Africa1
It's a long flight, but it's worth it. South Africa is a traveller's paradise with stunning coastal roads, towering mountain ranges, national parks teeming with the big five wildlife animals, a vibrant and diverse culture, and a food scene to rival that of any European country. December is the official start of summer here, so while the Northern hemisphere shivers through winter, South Africa welcomes you with long, warm summer days.
For an epic safari experience, Kruger National Park in northeastern South Africa is green and full of life, while in Cape Town the beaches are buzzing, the views from Table Mountain are at their clearest and prettiest, and the mood is infectiously cheerful.
3. Finland1
If you want to experience what winter is really like and celebrate a white Christmas, then why not escape to a true winter wonderland. Finnish Lapland is a true Arctic wonderland – snow-dusted fir forests, rushing waterfalls, gentle reindeer and a vast, white wilderness that's guaranteed to leave you breathless. Strap on your hiking boots and explore the taigas, rustle up some huskies and experience the rush of a real dog sled, watch the sun go down over the pristine peaks, and then enjoy a traditional Sami meal or sauna while the skies dance with the Aurora Borealis. You may even bump into a jolly bearded man in a red suit around the 25th too – rumour has it Santa's workshop is right here.
4. St. Barth's, Caribbean2,3
Laid-back with the Caribbean lifestye yet sophisticated with European influence, St. Barth's in the Caribbean is an A-lister's sunny paradise of choice with the world's most perfect beaches, restaurants, hotels and villas. If you love laid-back luxury as you soak up the sun and the fine life, you'll be immediately hooked. By day, you can explore the diversity of the island's 16 beaches – each with its own distinct personality where you will find visitors enjoying the translucent azure water and stretches of soft, white sandy beaches. As the sun sets, you can glam up for dinner at one its swanky restaurants, often serving up French-influenced cuisine. To end the night, you can head to one of St. Barth's nightclubs or lounges for a drink or two.
5. Uruguay3
Want a beach holiday with a difference? Then this South American beauty is for you. Most of Uruguay's never ending white-sand beaches are practically empty even in high season. Lasting just a few weeks in December, it's the best time to come as things get lively – think Ibiza and Mykonos-style fun of the Mediterranean. Wooden-shack restaurants, beach bars and artsy little hotels open their doors for the Buenos Aires party crowd who hop across the River Plate for Christmas and New Year fun.
But if you want a beach to yourself, you can still find it around little hippy towns like Jose Ignacio, La Barra and Punta del Este.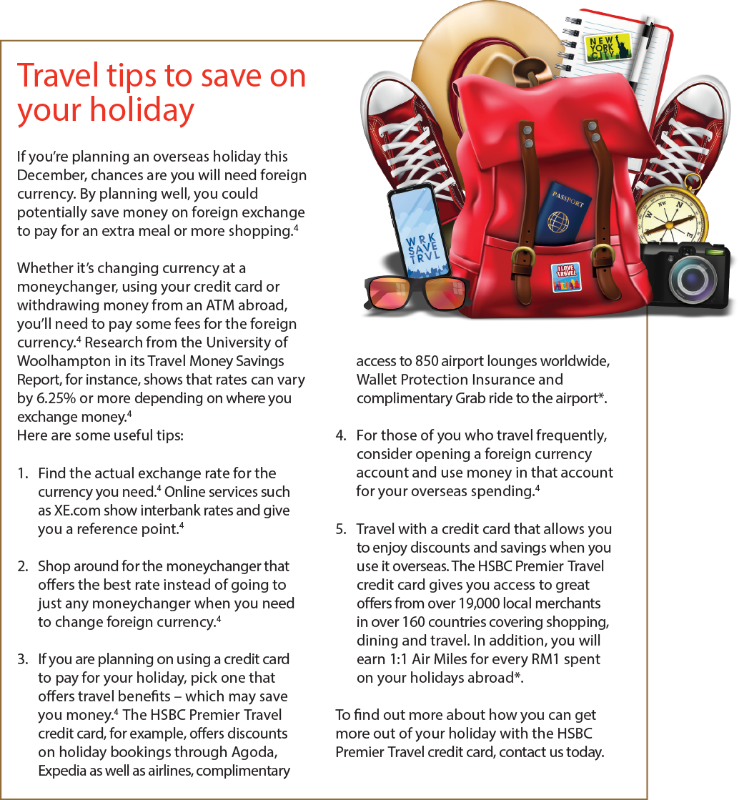 Sources: 1 The Journal by Intrepid Travel, The top 11 destinations for travel in December 2018, 13 September 2017. 2 Vogue, A beginner's guide to St. Barth's, 29 June 2016. 3 Conde Nast Traveller, Where to go on holiday in December: 10 top destinations. 4 Today Online, Save money when you use foreign currencies, 1 September 2018.
Amended Terms & Conditions: For HSBC Premier Travel Mastercard® credit card 2018. This programme is only applicable to Primary cardholder. Air Miles awarded are capped at 20,000 Air Miles for overseas spend and 30,000 Air Miles for local spend per calendar month. Earn 1 Air Mile for every RM4 local spend. Each Eligible Cardholder is entitled to a maximum number of 12 complimentary visits a year. Lounge access for the 13th and subsequent visit and accompanying guests (including Supplementary Cardholders) will be charged a nominal fee of USD27 per person, per visit. The charges may be revised at their discretion. 7% discount on Expedia is applicable for 1 hotel room booking. Both Agoda and Expedia's discounts are subject to their respective Terms and Conditions. Eligible Cardholders who purchase airline ticket(s) of RM2,500 and above based on airline categories that correspond with any Merchant Category Code will receive a Grab promotional code of RM80 ("Grab Promo Code").