Are you guilty of the 7 Deadly Sins of the Year End Shopping?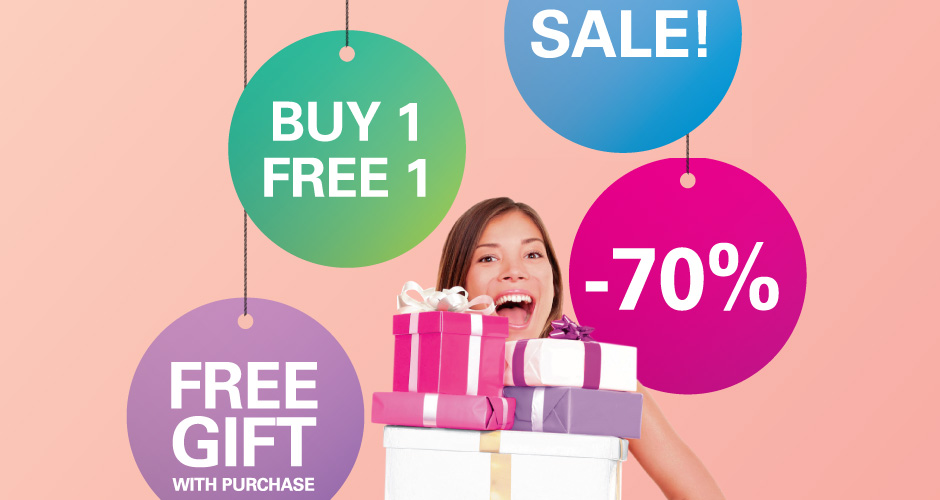 A "SALE" can be seductive. The joy of nabbing a designer bag at half price. The fun of getting free gifts with your purchases. With sales and promotions happening everywhere you turn, it is so easy to get caught in the trap of maxing out your credit card or buying things you do not need. The euphoria of shopping and bargain hunting may end up with a pounding hangover of outstanding bills.
With the year-end sales and festive periods, a surge in consumer purchases is expected. This year is no different. Managing Director of Retail Group Malaysia Sdn Bhd (RGM), Tan Hai Hsin predicts that "The third and fourth quarters of 2011 are expected to see a 7% and a 5% growth in retail sales, respectively."1
Spending more may be necessary at year-end, due to the school holidays, the celebrations and festivities around the corner. But are there ways to survive the year-end shopping without wreaking havoc on your finances? Our list of 7 deadly shopping sins and virtues may provide nuggets of wisdom to keep you on the straight path and guilt free shopping this year-end.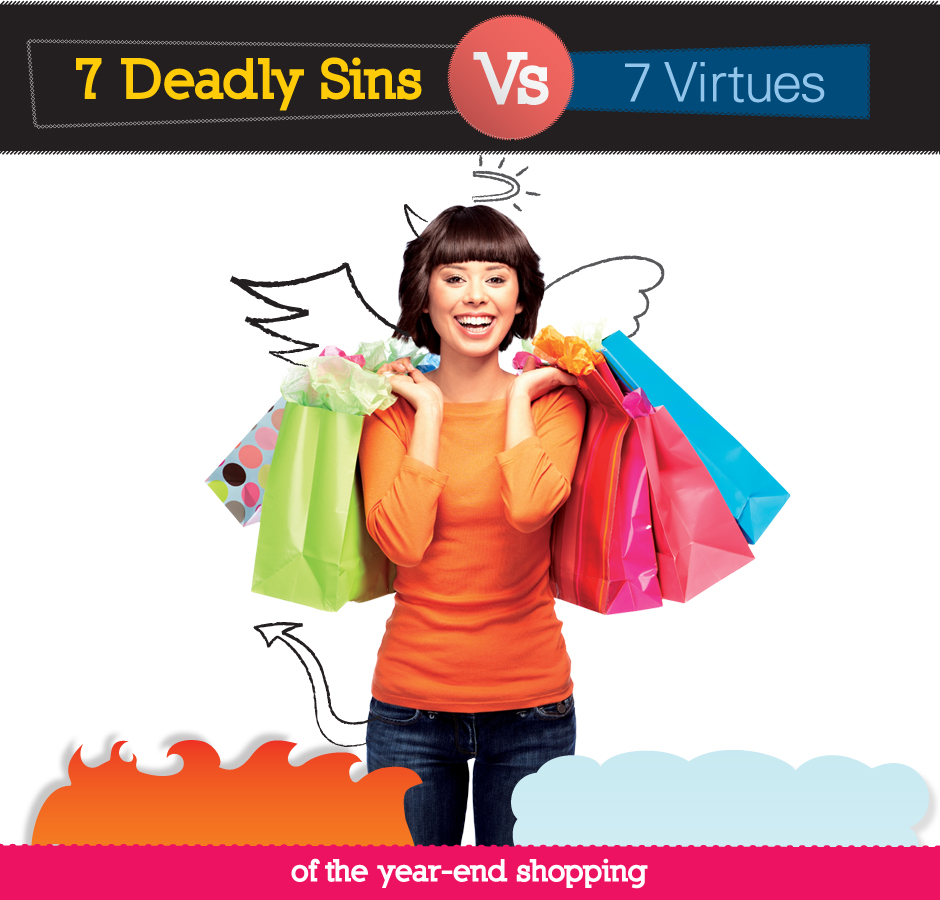 Wrath
Sale time can be trying on the nerves: the throng of shoppers, the long queues at the fitting room and cashier. Remember, shopping is supposed to be enjoyable. Stay cool. Picking a fight with a fellow shopper who snapped up the last pair of heels in your size may not be a good idea. If you feel hot and bothered, it is far better to leave. Have an iced latte and move on to the next store.
Greed
There's a famous quote that goes this way, "If the shoe fits, buy it in every colour!" (Author Unknown) That's exactly how you run into a financial trap. Shakespeare was right when he wrote, "Too much of a good thing is bad." (Shakespeare, As you like it) You may not want to buy more than you need.
Sloth
It is not recommended to wait till the last minute to hunt for gifts or stock your fridge with festive goodies. The items you want may run out by then. You may be more prone to making bad buying decisions when you are squeezed for time and out of options causing you to grab what's available regardless of price or your budget.
Pride
If you feel that the act of bargaining is beneath you, then you could let many opportunities to score a good deal slip through your fingers. In places like wet markets, non fixed price stores, you could possibly try for a discount. You'll never know if you never try.
Lust
Knees go weak at bottom basement prices. You may not really need the item or possibly even like it that much but the temptation of scoring a good deal may be overwhelming. Pause and question its too-good-to-be-true price: is the item damaged? Is the item expiring soon? If your shopping spidey senses tingle, check and double check. It is recommended that you always read the fine print.
Envy
You may fall into the envy trap when you see others having what you don't have. You may not want to indulge the green eyed monster by rushing out and buying the very thing that stirred such emotions. Why not try holding off the purchase for 48 hours? When the rush of emotions die down, you can rationally reconsider the purchase.
Gluttony
It is not recommended to shop when you're hungry. Research shows that all kinds of food tend to look more tasty when you are hungry, causing you to load up your cart.2
Patience
Take your time to hunt for the best deals – at the stores, online shops and in your rewards catalogue. If you have the time and know when the sale starts for a particular store, you may visit the store a day earlier to check out the items you want. When sale day arrives, just go in, grab them and check out at the cashier.
Charity
It's the season to give. Well, why not start with yourself? Give yourself a little reward with the HSBC VIP SmartPrivileges exclusive shopping deals from our participating merchants when you spend with your HSBC Visa Signature and HSBC Premier World MasterCard. Please visit www.hsbc.com.my for more details. But let it not end with you. It would be wonderful to be generous to those who are in need and share some festive cheer with them!
Diligence
Plan ahead, make a shopping list, set your budget, mark out sale days. Shod yourself with good shoes and a huge shopping bag.
Humility
Many stores have tie-ups with credit cards but may not publicise the discounts. You may consider being a little thick skinned and ask if the store offers a discount for your credit card. Besides a discount, you also have the option of asking if they offer a 0% Instalment Payment Plan especially if you are purchasing a high ticket item. This will allow you to convert the high ticket price into 0% Instalment plan with monthly payments up to 24 months. Alternatively, if there is no 0% Instalment plan from the merchant, you may choose to convert the payment into HSBC's Flexi Payment Plan and enjoy up to 20 months instalments with an upfront low interest charge. Visit www.hsbc.com.my to find more about HSBC Flexi Payment plans. Terms and conditions apply.
Purity
You may wish to examine your motives for a purchase. Have you considered whether you really need it? Is it impulse buying? Are you buying it to make you feel better about yourself? Will you wake up tomorrow and regret purchasing it? Sound reasons and pure motives, may lead to sound purchases too.
Kindness
Sometimes you may need to be cruel to be kind. You may want to learn to say "no" to yourself and others (eg. your children at a toy store). You can consider setting spending limits and buying boundaries (eg. only 1 toy per child every 2 months) that may help you stay true to your budget.
Temperance
It's the year end festivities. It's a great time to celebrate and indulge yourself but you may want to do it moderately and smartly. You may consider looking into your HSBC SmartPrivileges to get more bang for your bucks. You could end up indulging in more privileges and offers compared to just using cash. Visit SmartPrivileges microsite at www.hsbc.com.my/sp for more details.
Source:
1 Business Times, "Malaysia retail sales forecast revised upwards", 4 October 2011
2 Daily Mail Online, UK, "Proof at last that you shouldn't go shopping when hungry… it's down to our hormones", 6 May 2008