"I do!"
Things parents may need to do
to get their children married early!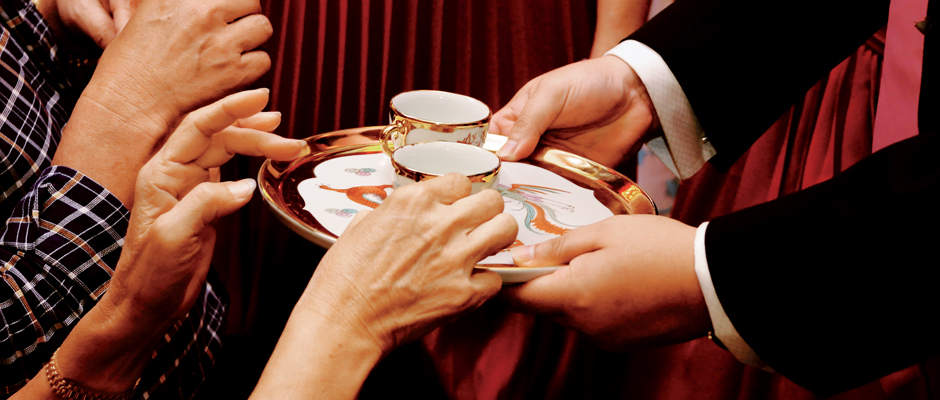 The invitation goes, "Mr and Mrs Andrew Wong request the pleasure of your company at the auspicious occasion of the marriage of their first son, David Wong with Lydia Toh ….". And you wonder when it will be your turn to issue such happy invitations. Your child is of marriageable age, has a partner, but they seem to be not in a hurry to tie the knot. When will they ever get married, you wonder?
You are not alone in your wait.
According to a survey by the National Population and Family Development Board (LPPKN), the average marriage age of marrying Malaysians will increase to 33 years by 2015 or they may choose not to get married at all. Furthermore, the average age at first marriage for men and women rose from 25.5 and 22.0 years respectively in 1970 to 28.6 and 25.1 years in 2000. 

If the trend persists, your hope to "have a daughter (or son)-in-law serve you tea", as a popular Chinese saying goes, may have to wait a while longer. Nevertheless, there may be more than meets the eye. Young couples face a myriad of hurdles in their journey towards starting life together, as revealed in the LPPKN survey.  
Not surprisingly, at the top of the list is financial problem. The survey indicates that almost one in two men in Peninsular Malaysia (44%) will marry late or not marry at all due to financial problems. As a parent, you may be faced with spoken or unspoken anxieties from your children with regards to the cost of married life. Similarly, parents may also have their own private concerns as they see their children struggle towards the next phase of their adult life.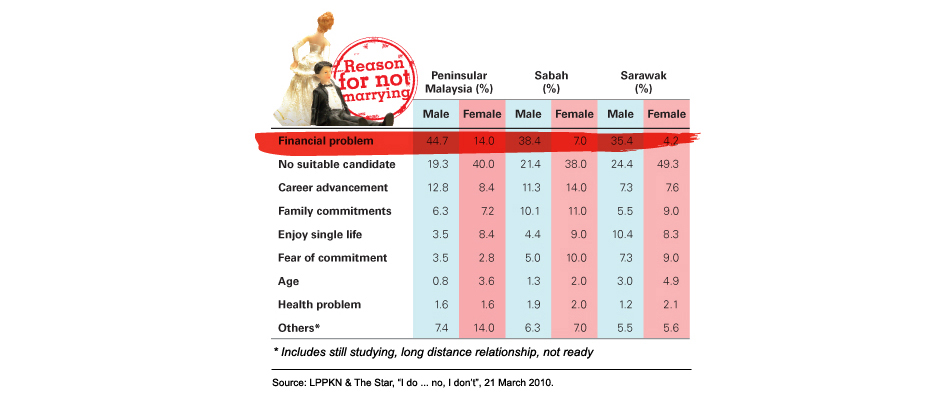 No knot now?
If you are still a long way off from walking your child down the aisle, you can also plan ahead and start early to reap the most benefits.
Open a junior savings account with good interest rates for your child, such as the HSBC Premier Junior Account, and help cultivate good saving habits in your child. 

If you have the financial ability, invest in a property and enjoy rental yields while your child is growing up. When he or she is ready for marriage, you can hand it to your child as a wedding gift.

Consider investing in an education fund to help pay for your child's education and potentially avoid future debt. 

Start a long term regular investmentprotection.html plan (eg. Unit trusts/Takaful) to help build up an investmentprotection.html for his or her future.   
Your child may not need to be part of the trend – putting off marriage for financial reasons. Some forward financial planning may be all it takes to help your child chime the wedding bells.
Single or Married? The math adds up
Contrary to popular belief, getting married may actually provide some financial advantage, especially if both husband and wife are working. 
Combined incomes = Combined strength
With the combined strength of two incomes, your child and his/her spouse will find it easier to secure loans. For example, if your unmarried child who earns a salary of RM5,000 per month applies for a RM500,000 home loan, he or she will most likely be turned down by the bank. But if your child and his/her spouse each earn a monthly income of RM5,000, the combined income may make the loan approval easier. 
Two incomes, shared expenses 
Some couples may share many household expenses, such as, one ASTRO or newspaper subscription instead of two. The streamlining of expenses may result in money leftover to be invested in other areas. 
Share employer's benefits  
Some companies may provide health care benefits for spouse and children. With this, your married child may be able to save on additional medical expenses. 
Time is on their side
Should your child marry earlier, he or she will be able to start married life and may have a child at a younger age. Starting younger means they have more time on their side to grow their wealth to pay for their children's education, accumulate reserves for their retirement together and build their nest egg. In such cases, sooner may really be better. 

If your child's partner has chalked up significant credit card debt, owe back taxes or has stacks of 'past overdue' statements, it can only point to one thing – poor financial management skills – which may be a red flag for a would-be nuptial. Nevertheless, don't throw the baby out with the bath water. Encourage your child to ask how his/her partner got into debt in the first place and determine the gravity of the debt (You would probably weigh student loan and gambling debts differently). Your child will have to determine whether this will continue to be a problem after they marry. If they wish to continue on to matrimony, encourage your child and partner to draft a workable debt repayment plan and start whittling down the debt as much as possible before the wedding.

Starting a new life together can be stressful. More so, if your child has to face money woes. It may be a good idea to put the marriage on hold for a year or two until your child's partner can clear the debt. Working through these financial issues may help them learn to be more financially responsible towards each other before they enter into married life.

As a married couple, your child and his/her partner should be deciding on financial goals together and working toward them. But they may not have discussed this often neglected but important portion of their lives and how the merging (or non-merging) of their finances will work.  While no two persons getting married will be on the exact equal financial footing, they may be better off if they can reconcile the differences and bring it a little closer to each other. Encourage your child and his/her partner to openly and honestly discuss their financial status, debt and expectations. It is not always easy but they should strive to get their financial goals on the same page before they start their whole new chapter as husband and wife.
Source:
Information referenced from MyNextBuck.com, "How Getting Married Wrecked My Finances", 8 January 2010 and MSNMoney, "Marrying Mr. Debt? Prepare to pay" 21 February 2011.