Say Hello to Mobile Banking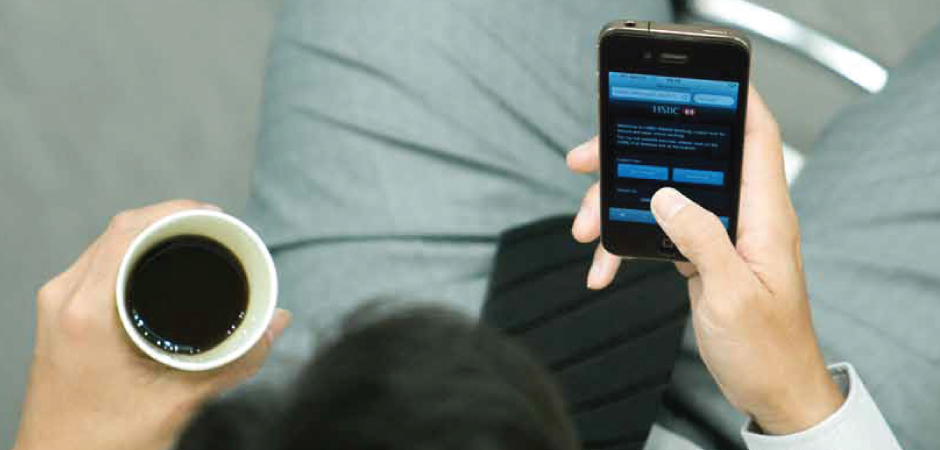 Take a look around you. How many people do you see with their noses buried in their mobile phones? People are more glued to their mobile phones than ever, thanks to the arrival of smartphones.
.
The trend can only go up as two in five (38%) mobile phones sold in Malaysia in 2010 were smartphones, according to a retail study by research company, GfK Malaysia which was reported in The Star. The study also revealed that consumers snapped up over 24% more mobile phones in 2010 compared with 2009 and that sales of smartphones have consistently increased every month.1  
Furthermore, an article by GigaOM.com reported that signs are pointing towards smartphones overtaking personal computers (PC) as the preferred internet device. GigaOM.com, a leading business and technology online news portal reports that mobile Internet usage is ramping up substantially faster than desktop Internet usage. This is derived from the observation by Mary Meeker, Managing Director at Morgan Stanley and head of the global technology research team in her latest report "State of the Internet" on the adoption rates of iPhone/iPod touch as compared to that of internet services provider, AOL (formerly known as America Online) and browser, Netscape in the early 1990s. The adoption of the Apple devices is taking place more than 11 times faster than that of AOL, and several times as fast as that of Netscape.2 
Rising along with this trend is mobile banking. According to Bank Negara's Financial Stability and Payment Systems Report 2008, mobile banking subscribers nearly doubled from 0.3 million as at end of 2007 to 0.5 million as at end of 2008, while its transaction value rose from RM21.2mil in 2007 to RM71.5mil in 2008.3  
The convenience and ease of use are among reasons smartphone users have taken to mobile banking. Synovate, in its study of mobile banking trends in Hong Kong have found that among early adopters of mobile banking, close to half (49%) have used it in the past 12 months to buy and sell stocks, one in three (32%) has bought and sold foreign currencies, and one in four (23%) has purchased other banking products through mobile banking. In communicating with bank customers, mobile phones have proven effective, with over 40% of mobile banking users surveyed having looked up banking-related promotions and discounts through this channel.4
Experience banking on the move with HSBC Mobile Banking 
The convenience and ease of banking via your mobile phone is now available with HSBC Mobile Banking. The first step is to ensure that you have registered for Internet Banking at www.hsbc.com.my through your PC and accepted the Internet Banking Product Terms and Conditions. After you have registered for Internet Banking simply type www.hsbc.com.my into the address bar of your smartphone and you will automatically be directed to a mobile version of our site if the mobile device that you are using is compatible. You can then enjoy the HSBC Mobile Banking services.
"…close to half (49%) have used mobile banking in the past 12 months
to buy and sell stock…"
Mobile Banking With Double The Security  
With the rise of Internet and mobile banking, the number of Malaysians falling prey to e-banking scams have also risen. One common method used by cyber criminals is phishing sites which may appear similar to a bona fide bank site to trap account holders to reveal their Internet Banking username and password. From there, the cyber criminals can access their account.5  
Fortunately, HSBC employs multi-factor security which includes a double layer protection for its Internet and Mobile Banking services to protect the interest of its customers. 
Firstly, the HSBC Internet Banking and Mobile Banking site are well encrypted, which means each time the customer connects to the HSBC Internet Banking and Mobile Banking site, a secure connection is made between the customer and HSBC. This can be evidenced by the web address starting with https://… and a picture of a lock symbol 

 in the web browser as well. Once this secured connection is made, all data transferred between customer and the bank is encrypted, allowing for safe input of the customers' confidential username and password. Secondly, HSBC Internet Banking and Mobile Banking users are given a Security Device which generates a unique, once-only time-sensitive security code that is required when they perform an outward transfer, in addition to their username and password. For further understanding on HSBC's Online Banking security measures, please visit http://www.hsbc.com/1/2/online-security/hsbc-protects-you.
Try out HSBC Mobile Banking today at www.hsbc.com.my/mobilebanking.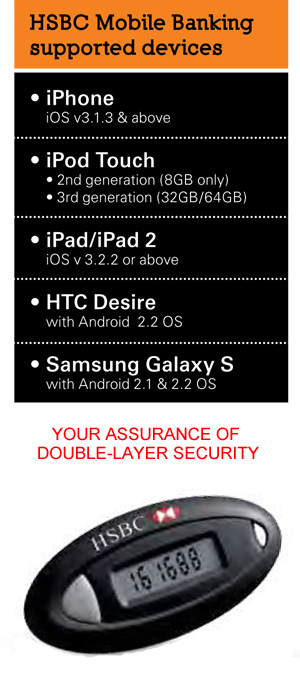 Footnotes:
1 The Star, Look where you walk, February 20, 2011. 
2 GigaOM.com, "Mary Meeker: Mobile Internet Will Soon Overtake Fixed Internet," April 12, 2010.
3 The Star, Payment via mobile catches on, August 1, 2009. 
4 Synovate, Mobile Banking Impacts Consumers' Bank Selection, Synovate Mobile Banking Perception Study, Hong Kong, 25 November 2010.
5 The Star, Rise in scams targeting e-banking accounts, February 16, 2011.