Celebrating life after Retirement
-To Happiness, Health and Beyond-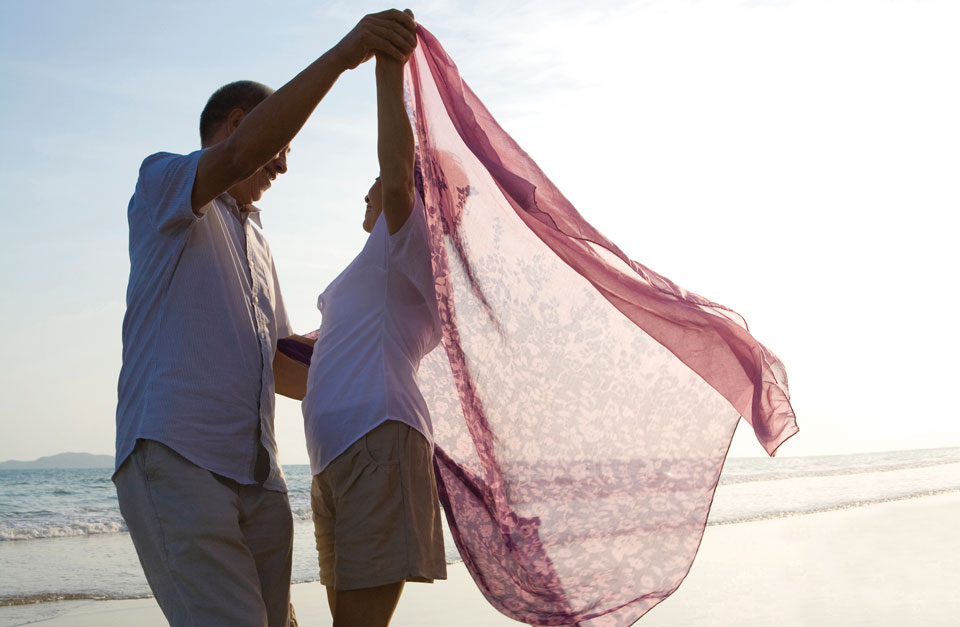 To many people, retirement is the happy ending after a long and fruitful career. No more Monday blues, no more deadlines, and no more dreaded commutes. Instead, for the first time since you started working, all of your time belongs to you again. Vacations beckon, and if you have a good amount of savings you can start spending some of your hard earned money. According to the Gallup Healthways Well-Being Index, people usually start life happy, but that happiness declines as they hit adulthood1. Once they hit their 50s and 60s, they start to feel happier again. This is called the U-curve of happiness2, and it's great to know that no matter how we feel right now, our happiness level will pick up again.
Even so, there are some things we can do to ensure that we are prepared for the reality of retirement. Having a comfortable retirement rests on the shoulders of the individual. Even though government programmes like the Employee Provident Fund can help to subsidise costs, the money within that fund isn't going to be enough. All of these funds need to be supplemented with private savings and investments3. On that note, here are a few steps you can take to improve your financial situation and happiness during your retirement years.
Create a predictable paycheck
It seems reasonable to say that more money equals more happiness. While this is true to some extent, research by the University of Michigan Health and Retirement Study found a drop-off in happiness after you've amassed some USD3.5 million in riches – more money doesn't increase your happiness as much1. It's not only about the amount of money you have, it's also about where your money comes from and how it gets to you. Retirees with a predictable income (pension plans or rent from rental properties) get more enjoyment from spending that money than they do from a lump sum payment, like from their retirement fund1.One of the options would be to invest in an insurance plan that provides you with steady retirement income. During the span of our careers, we tend to focus on wealth accumulation but often forget about wealth decumulation during retirement. Even if we have a diversified portfolio with multiple investments, the funds disbursed does not provide as much satisfaction as receiving a steady income.HSBC's UniversalIncome provides a long term Guaranteed Retirement Income Payment (GRIP) of 4% to 10.75% p.a. on your total premium up to age 88. In addition, there's no medical underwriting required, flexible GRIP guaranteed payout age, short and flexible premium payment plan, and more. Having a steady monthly income through this plan also enables you to supplement your retirement portfolio with financial liquidity while diversifying investment risk. Furthermore, this stable stream of guaranteed income can mitigate the risk of us outliving our assets and helps us to manage challenging times (eg. medical emergencies) without excessive stress.
Having a purpose in life becomes more important after retirement. After decades of routine work, retirement requires the same element of routine. The only difference is, now you get to choose what you want to do! Engaging in activities we enjoy is critical to happiness and life satisfaction3. This is the time to develop that new hobby you've always loved, or pick up that language you've always wanted to learn. Maybe travel the world with your significant other and open yourself up to new experiences. More importantly, consider volunteering your time and helping others who are in need. Not only does this help you stay mentally alert and physically active, volunteering also adds years to your life and improves your sense of self-worth3. Building a retirement regime should be fulfilling, fun, and completely catered to what you want to do.
Engaging in activities we enjoy

is critical to happiness and life satisfaction
Stay close to family and friends
One of the potential pitfalls of retirement is loneliness. It's easy to take the company of others for granted during our working lives, as people and events constantly surround us. Once we leave that all behind, it takes more effort to maintain old relationships or to build new ones. Even though your family and friends may seem to be busy with their own lives, it is important to continuously schedule time with them. Whether they realise it or not, they can benefit greatly from your wisdom and participation in their lives. On the other hand, you will also need them for support and engagement4. So don't cancel that weekly dinner, and start planning that vacation you've always wanted to take them on. It could be one of the most enriching aspects of your retirement life.
Making wise personal financial decisions is a skill that you should cultivate throughout your life. During youth, excess income can be invested to build retirement security. Once you hit retirement, continuing to keep control over your expenses can help to stretch your income further. There are 2 elements to spending smartly:
Buy Smart After retirement, it's easy to feel entitled to nice things. While it's important to enjoy your life and indulge in some things, it is advisable to consider whether buying this thing will improve your life in a significant way. Remember that there is a difference between a "want" and a "need". Also, many places have senior discounts for groceries, travel, meals, and etc. Consider joining group travel tours or visit other countries during off-season, or invest in season passes if you are inclined to visit one place several times. It is important to remember that spending wisely does not mean having to compromise the experiences you want.
Avoid Debt Any kind of debt eventually becomes a financial burden, and having debt during your retirement years is even less appealing because you are no longer drawing the income that you used to. In addition, debt usually requires paying interest, and that takes out an unnecessary chunk out of your savings. Seniors are also more vulnerable to inflation since their future income is generally more limited. Being debt-free ensures that you have full control over all of your income while avoiding the stress that usually comes with borrowing.
No matter how you choose to spend your retirement, it is never too late to plan for your future. Even if you are in your 40s, 50s, or even 60s, there are investment opportunities and savings plans catered to your needs. Take stock of all of them and select plans that fit what you're looking for and provide the returns that you require. A product like HSBC's UniversalLegacy allows you to plan for the future of your family by preserving your wealth, diversifying your assets, and also arranging for hassle-free distribution. Another option would be HSBC's UniversalTreasure, which offers you Guaranteed Cash Payments, Guaranteed Maturity Benefits, and much more. In the end, we all do what we can for our future, but we should always remember to enjoy it when it comes.
Please contact your Relationship Manager for further information, or visit an HSBC branch to find out more about the products above.
• Sources: 1 Time.com, "5 Secrets to a Happy Retirement", January 12, 2015. 2 Projectm-online.com, "Why I love deferred annuities", March 18, 2016. 3 Moneycrashers.com, "6 Keys to a Comfortable and Happy Retirement", October 29, 2014. 4 Money.usnews.com, "5 Secrets to Happiness in Retirement", May 16, 2016.